Jacob Zuma has
refused to speak
in his first public outing since becoming African National Congress (ANC) leader on Wednesday. Reporters crowded around him as he emerged from a meeting with key deputies and followed him until they released with embarrassment he was going to the toilet. When he re-emerged from the bathroom, Zuma merely smiled and laughed at requests for comment before being whisked away by bodyguards into an awaiting car.
His first official speech is likely to be tonight at the party's closing session. The 65 year old Zuma was elected on Tuesday night at the party's national conference in the far northern city of Polokwane. In the party's first leadership election contest in 58 years, Zuma won with 2,329 of the votes at the ANC's five-yearly convention to the Mbeki's 1,505. His
convincing victory
steers the way clear for a tilt at the South African presidency in 2009 while the aloof Mbeki takes on the mantle of a "lame duck" leader.
Analysts are divided in their interpretation of Zuma's 60 per cent victory. Some see it as a sign of healthy democracy in the ANC while others see it as a portent of a fatal split in the organisation. Mbeki was booed and heckled during his speech to the congress on Sunday while Zuma supporters danced and loudly sang their signature anthem "
Awuleth' Umshini Wami
" which means "Bring me my machine (gun)".
Jacob Gedleyihlekisa Zuma
was born in Kwa-Zulu Natal in 1942. He received no formal schooling and joined the ANC aged 17. Just one year later the apartheid regime made the ANC illegal. Zuma was arrested in 1963 while trying to leave South Africa. He was convicted of conspiracy against the government and served ten years on Robben Island. After his release, he organised the ANC in exile in Swaziland and Mozambique. After the ANC was unbanned in 1990, Zuma was instrumental negotiating a peaceful transition to a majority government and rose through the ranks to become deputy president.
But in 2005 Zuma was strongly implicated in the
corruption scandal
of Schabir Shaik, a banker and close friend of Zuma's. A court found Shaik guilty of persuading a French arms company to pay an annual half million rand bribe (about $75,000 on current exchange rates) to Zuma in return for the firm's participation in a multi-billion rand arms deal. Testimony showed Zuma was always short of money and relied on Shaik's kickback to subsidise his extravagant lifestyle. Shaik was jailed for 15 years and Mbeki sacked Zuma shortly afterwards.
At the time, this seemed a fatal blow to Zuma's political career with a likely trial and prison sentence to follow. But in September last year, a judge
dismissed
the State's application to postpone Zuma's trial and struck the matter off the roll. Justice Herbert Msimang said the state's effort to prosecute was "anchored on unsound foundations". But the state hasn't given up hope and a decision must be made early next year on whether to press charges of racketeering, tax evasion, fraud and corruption against him.
Some are now worried that the populist Zuma will turn South Africa into the "
new Zimbabwe
". Many fear his appointment will cause an exodus of skilled white workers and their wealth. The Johannesburg share market declined 1.5 per cent yesterday on news of Zuma's ascension. The business community is worried that Mbeki's market friendly policies will now be abandoned by the apparently more socialistic Zuma. Stanislava Pravdova, an analyst at Denmark's Danske Bank, had a typical business reaction. "With Zuma's victory, South African politics has lost a lot of its credibility abroad," she
said
.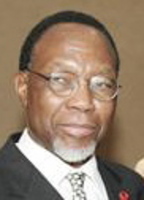 However the door may yet open for newly installed ANC Deputy President
Kgalema Motlanthe
to take control of his country's fortunes. Motlanthe is a natural backroom player and mostly shuns the limelight that comes so naturally to Zuma. But as a former political prisoner, Motlanthe is well respected within the party and is a good negotiator. He is also likely to play a compromising role between Zuma and Mbeki. More interestingly, it remains distinctly possible that the next presidency could fall into his lap if Zuma is unable to shake the persistent corruption allegations over the next 12 months.