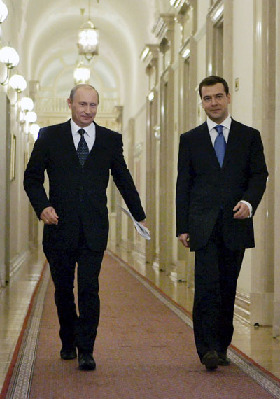 Vladimir Putin has
confirmed
the worst kept secret in Russian politics by saying he had "accepted an offer" to become the country's Prime Minister. This will now happen if his handpicked successor Dmitri Medvedev is elected President in March as the Prime Minister is a presidential appointment. Analysts have painted this as a deft manoeuvre for Putin to maintain the reins of power despite the constitutional obstacle of a maximum of two presidential terms. But the announcement heralds shifts in power factions behind the scenes.
Medvedev is a hot favourite to win the Presidential election with the full weight of incumbent approval behind him. Putin endorsed Medvedev for the presidency last week and Medvedev responded by saying he wanted Putin to serve as Prime Minister. The
motto
appears to be "Elect Medvedev and keep Putin." With opinion polls consistently showing that almost half of Russia's electorate would back Putin's chosen successor, and strict media controls denying oxygen to opposition parties, the path seems clear for a Medvedev victory, most likely in a second run-off election.
The 42 year old
Dmitri Medvedev
would then become Russia's youngest leader since Tsar Nicholas II. Medvedev is a graduate of St Petersburg's State University where he gained a doctorate in law. In 1990 he was appointed to a consultancy position in the city's council. Here he first encountered Vladimir Putin who was also a council advisor. He moved into national politics in 1999 becoming Government deputy chief of staff. He led Putin's presidential election campaign a year later. He was rewarded for his loyalty in 2005 with the role of First Deputy Prime Minister, a position created specifically for him.
Medvedev is part of the Kremlin's technocrat wing, which has strategic control the state-run gas monopoly Gazprom. Putin's support for him is a repudiation for the hard-line military and intelligence
"siloviki" faction
(pdf) which backed former defence minister Sergei Ivanov for the presidency. Ivanov still has formidable weapons at his disposal for the election. The Siloviki remains the most powerful of the Kremlin cliques and controls the military, administrative and legal agencies including the FSB (the rebadged KGB).
But an
opinion poll
released yesterday by the Yury Levada Analytical Centre shows clear support for Medvedev over Ivanov. 35 per cent said they would vote for Medvedev with 21 per cent favouring Ivanov. The 66 year old current Prime Minister Viktor Zubkov is third with a 17 per cent approval rating. Medvedev's rating has increased five percentage points in four months while Ivanov's has dropped a dramatic 15 per cent in the same period when the hugely popular Putin announced his intentions. Putin won in 2004 with over 70 percent of the vote.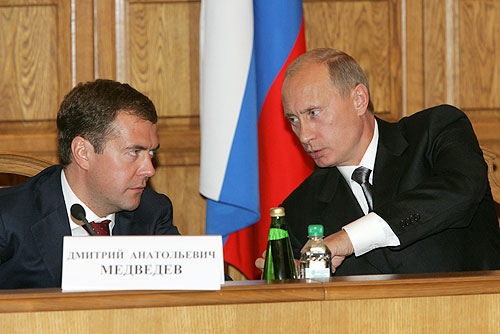 With power top-heavy in the hands of the president, it is not clear how his switch to Prime Minister will operate in practice. Putin is unlikely to want to accept orders from his new "boss". Putin said in his
speech
to the closing session of the United Russia party congress on Monday he was ready to continue their "joint work" and that he would not seek to change the legal authority of either office, and that he was ready to work with Medvedev "without changing the distribution of powers between the president and the government". That means all the key "power ministries", such as the Foreign Ministry, Defence Ministry, and Interior Ministry would report directly to Medvedev. It remains to be seen who will really be pulling the strings of their joint work.