Kirk Kerkorian, the father of the Las Vegas mega-resort,
turned 90
yesterday. The Armenian-American billionaire Kerkorian is president of MGM and most intimately associated with the growth of Las Vegas. He was also responsible for building some of the biggest hotels on and off the strip. The Los Angeles based Kerkorian is the world's 31st richest man and made his billions in shares in US auto manufacturers as well as Vegas's hotels. He is also one of the most secretive of the super-rich, never giving interviews, making speeches, or accepting awards.
Kerkorian is the original self-made American starting from nothing and now the holder of a
$15 billion fortune
. He owns five percent of General Motors worth $870 million and his company MGM Mirage owns half of the hotel rooms on the Las Vegas strip. He bought Steve Wynn's Mirage Resorts in $6.4 billion buyout in 2000, then snapped up Mandalay Bay Resorts for $7.9 billion in 2004.
He was born
Kerkor Kerkorian
on 6 June 1917 in Fresno, California. He dropped out of school and became a professional boxer. He became the Pacific amateur welterweight champion fighting under the name of "Rifle Right Kerkorian". At the start of World War II, Kerkorian took flying lessons and gained a commercial pilot's licence six months later. He signed up with the Royal Air Force and flew Canadian built de Havilland Mosquitos combat aircraft across the dangerous Arctic Circle route for use in the European theatre of war.
As the war came to an end, he spent his $5,000 savings on a Cessna plane and became a general aviation pilot. He regularly flew into a dusty railroad town called Las Vegas where he became familiar with the small gambling operations that sprung out of the desert. In 1947, he paid $60,000 for a small airline called Los Angeles Air Service which ran chartered flights to take gamblers to Las Vegas from Los Angeles. Cashed-up Californians were just starting to discover the allure of Las Vegas and Kerkorian's renamed
Transinternational Airlines
shuttled celebrities, high rollers, elopers, and the occasional mobster to the 24-hour wedding chapels and casinos. Kerkorian was on the way up and so was Las Vegas.
The name
Las Vegas
means 'the meadows' in Spanish. Its artesian wells were first used as a watering hole on the 1,200km Old Spanish Trail between Santa Fe and Los Angeles. A small Mormons contingent settled the area in 1855 to convert the local Paiute Indians. It became established as a railroad town in 1905 but it was two events in the 1930s that changed the town forever. Nevada legalised gambling in 1931 and the Hoover Dam was opened in 1936. The dam attracted tourists to the desert area and it was the closest town in Nevada to Los Angeles.
Mobster
Benjamin "Bugsy" Siegel
had fled New York to Los Angeles in 1937 and was attempting expand mob influence in Southern California. He was quick to understand the attraction between casinos and organised crime and saw his opportunity in Las Vegas. With the financial aid of fellow Murder Inc accomplice Meyer Lansky, he built his first casino, the Flamingo, which opened in 1946. It would be the first casino on what is now the 7.2km long Las Vegas Strip lined with mammoth casinos. The now wealthy Kerkorian bought his way on to the Strip by buying the Flamingo from the mob in 1967.
By now Kerkorian had been in the airline business for twenty years and had built up a lot of capital. He was also a property player. His major break came in 1962 when he bought a 320,000 sq m property across the Strip from the Flamingo for $960,000. The property was actually separated from the Strip however by a narrow band of land belonging to another owner. "It was landlocked," says Kerkorian, "We traded the owners four or five acres for all of this thin strip that they could never build on."
Caesars Palace
contacted Kerkorian and rented it for $4 million. He would eventually sell the land to Caesars Palace for another $5 million in 1969.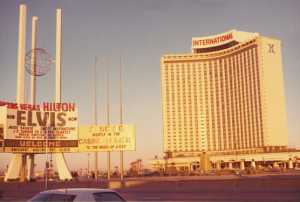 The Flamingo was just the start of his move into the hotel business. The same year he bought the Flamingo, he bought 33 hectares of land for $5 million and built the International, the largest hotel in the world. Barbra Streisand was Kerkorian's first headliner, but the hotel remains synonymous with another superstar.
Elvis Presley
was seen to be in decline and had been in exile from the stage for nine years. He flopped in Las Vegas back in 1956 but was now ready to return in triumph. He opened at the International on 31 July 1969. Over the next seven years, Presley gave 837 sold-out performances, playing Vegas for one month in the summer and another in midwinter while staying at a 30th floor suite at the hotel.
Kerkorian
bought
the then unprofitable Metro Goldwyn Mayer (MGM) for the first time in 1969. Kerkorian wasn't interested in the studio; what attracted him was twofold, the MGM trademark and its Culver City real estate which was where MGM made movies since the silent film days of Hal Roach. Kerkorian proceeded to strip the assets and run down the studio. In 1979, he declared that MGM was now primarily a hotel company. In 1985 he sold the movie business to Ted Turner but bought most of it back 74 days later when Turner's backers got cold feet (Turner retained the MGM film library which he used as the basis for his Turner Classic Movies channel).
In 1990 Kerkorian
sold MGM again
to an Italian financier Giancarlo Parretti. But Parretti was unable to turn the movie studio around and was forced to sell up five years later. There was only one bidder: Kirk Kerkorian. But despite a new business plan the movie side of MGM continues to flounder. The endlessly lucrative James Bond franchise remains its only continued success.
Meanwhile Kerkorian was also turning his attention and Midas touch to the automotive industry. Already a holder of 22 million shares, he paid $868 million in 2005 for 28 million GM shares. The deal netted him 9 per cent of the company and made his investment arm
Tracinda Corporation
(named for his daughters Tracy and Linda) the third largest shareholder of GM. Kerkorian is CEO, president, director and sole shareholder of Tracinda.
Despite his advanced age, Kerkorian shows no sign of slowing down. In April this year, Tracinda made a $4.5 billion
cash offer
to buy the struggling Chrysler Group from Daimler. Kerkorian also reaches back into his Armenian heritage with his Lincy Foundation. It helped rebuild Armenia after the earthquake of 1988, with millions of dollars in housing grants. They are still active today helping to fund the school and road systems.
Kerkorian remains as optimistic about the health of the Las Vegas resort industry as he was when he arrived in his Cessna in 1945. "Personally, I wouldn't say it's headed for a fall," says Kerkorian, "except that there will be a leveling-out time, and the best hotels and the best operators are going to suffer less than the others." Those who know him describe him not as a hermit in the Howard Hughes fashion, but a gracious normal person. Kerkorian himself
claims
he is not reclusive. "I have 30- or 40-year friendships that I prefer to meeting new people" he said. "I go to an occasional party, but just because I don't go to a lot of events, and I'm not out in public all the time doesn't mean I'm anti-social or a recluse". It is not known how he celebrated his 90th birthday.