Somali born writer Ayaan Hirsi Ali
told
a packed Sydney Recital Hall last night that Muslim schools in Australia should be abolished. Speaking at the Sydney Writers festival amid high security, Hirsi Ali said Australians should ask why there is need for Saudi Arabian financed Muslim schools. "Young people should be groomed to be Australians first, to see their nationality first not religion," she said.
Ayaan Hirsi Ali was born in the Somali capital of Mogadishu in 1969. Her father, Hirsi Magan Isse, was one of the leading figures of the Somali Revolution which finally led to the overthrow of dictator
Mohamed Siad Barre
in 1991. Ayaan is Magan Isse's fourth daughter and her name Ayaan is the Somali word for "lucky". Magan Isse was imprisoned by Siad Barre shortly after Ayaan was born. But he escaped six years later. The family fled Somalia and after short stints in Saudi Arabia and Ethiopia they settled in Kenya.
Hirsi Ali
was educated in Nairobi where she fell under the influence of an Islamic religious teacher. Ayaan wore the hijab with her school uniform and was in favour of the fatwa against Salman Rushdie. In 1992, Hirsi Ali arrived in the Netherlands in circumstances that remain shrouded in mystery. She claims she was given in arranged marriage to a distant cousin in Canada. In preparation, she went to join family members in Dusseldorf, Germany. There she claims she worked out a plan to escape the marriage plans and fled to the Netherlands where she claimed asylum.
On her Dutch asylum application, Hirsi Ali gave a false name and told authorities she was a refugee from camps on the Somali-Kenyan border. Hirsi Ali was that false name as her birth name was Ayaan Hirsi Magan. Because Somalia was in the grip of a
civil war
and famine at the time, the Dutch accepted her application. Hirsi Ali took courses in Dutch and took various short term clerical jobs. After learning the language, she worked as a Dutch-Somali interpreter for refugees and studied political science at the University of Leiden. She gained her master's degree in 2000.
In her time at university, Hirsi Ali was exposed to new ideas that sorely tested her devotion to Islam. Then after 9/11 she suffered revulsion when she saw Dutch Muslims celebrate the attacks. She
wrote a book
called De Zoontjesfabriek (The Son Factory) which outlined her views on women, Islam and integration, and she quickly became a public figure with appearances on TV debates and news programs.
In 2002 she was introduced to Gerrit Zalm. Zalm was then Dutch finance minister and a member of of the market liberal party VVD. The VVD is a centre-right libertarian party. Zalm urged Hirsi Ali to
join the party
and stand for election. She was elected in 2003 and continued to attract controversy over her new views about Islam. Among her suggestion was that Muslims be screened for terrorism before being accepted into a job. She was also critical of the position of women in patriarchal Muslim societies.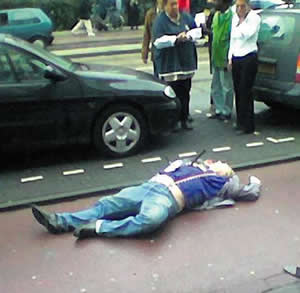 In 2004, she wrote the script for a ten minute film called
Submission
(a direct translation of the word "Islam"). The short film was directed by Theo van Gogh. In it a Muslim women is beaten by her husband and another is raped by an uncle while verses from the Koran unfavourable to women are projected onto their bodies in Arabic. Two months after Dutch TV aired the film, van Gogh was murdered in Amsterdam by a Moroccan immigrant Mohammed Bouyeri. Bouyeri implanted a knife in his body with a
five page note
attached which threatened Western governments, Jews and Ayaan Hirsi Ali.
Hirsi Ali went into hiding for three months. She emerged in 2005 and demanded to live a normal life despite ongoing death threats. Readers Digest nominated her European of the Year in 2006. In her acceptance speech she urged action against Iran to prevent it from developing nuclear weapons. In the wake of the Mohammed cartoons controversy, Hirsi Ali joined a group of 12 writers including Salman Rushdie who signed a
manifesto
which warned against Islamic "totalitarianism".
But her life began to
unravel
in May 2006 when a Dutch TV program Zembla exposed the fiction of her asylum application. Hirsi Ali was forced to admit she had lied about her full name, her date of birth and the manner in which she had come to the Netherlands. The Dutch media she could lose her Dutch citizenship thereby rendering her ineligible for parliament. An official investigation corroborated the TV report and Hirsi Ali resigned from parliament.
Although the Government eventually ruled she could keep her citizenship, Hirsi Ali moved to the US to take up a position with the
American Enterprise Institute
, a conservative think-thank based in Washington with close ties to the Republican Party. Here she remained under the watchful eye of security guards after threats from US based Muslim organisations. Her protection is carried out by American security personnel commissioned by the Dutch Justice department.
In April she
incurred the wrath
of Pittsburgh imam Fouad ElBayly who demanded the death sentence for her when she arrived for a lecture at the University of Pittsburgh. "She has been identified as one who has defamed the faith. If you come into the faith, you must abide by the laws, and when you decide to defame it deliberately, the sentence is death," said ElBayly, who came to the US from Egypt in 1976.
Her current visit to Australia has also attracted controversy and attracted
angry remarks
from local Muslims. Islamic law lecturer at Sydney's University of Technology, Jamila Hussain says Hirsi Ali's ideas are extreme. "She's obviously had some dreadful experiences, but they're not typical, " she said. Nada Roude, of the New South Wales Islamic Council also claims her visit has the potential to incite hatred. "Anyone who causes harm to our society because they have the right to express their opinion is not welcome," she said.