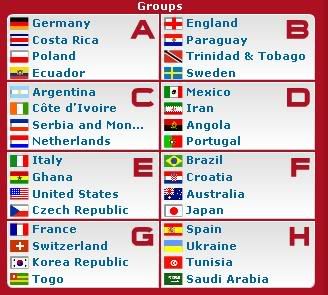 The World cup is eleven days old. The final games in the groups start tonight. Many teams have already booked their place in the round of 16 and some others have booked their flights home. Togo may have done that but have probably not paid their players.
Tonight Germany play the sons of the Equator for the right to win Group A. Five hours later, England and Sweden do battle for the same prize in Group B. Ecuador are 5/1 to beat Germany but only need a point. Germany might be happy to take a point and then take their chances against a leaden-footed England in the next round. Crock Rooney early and they'll be done for.
Trinidad (ok, and Tobago too) could possibly still qualify from England's group but as well as they've done so far its hard to see how Beenhakker can turn them into Ajax overnight. Paraguay will win that game.
Group C mirrors Group A and 6 pointers Argentina and the Dutch have a tasty play off for the right to win that group of half death. Argentina are the team of the tournament so far (their 'periscope' Riquelme is the player of the finals so far) and only need to draw to finish first. Group D mirrors Group A with Portugal cast as England and Angola as T&T. Angola have a slim chance of qualifying if they win and Mexico lose.
Groups E and F have been the most intriguing. Italy & the Czechs started well but both lost the plot in the second game. Ghana's win has made it a real possibility that either European side could go out. The USA not quite dead yet but are unlikely to make it. Group F sees Brazil though but Australia has stirred the plot. Defeat to Croatia would put them out but any other result and they qualify UNLESS Brazil reserves lose 2-0 to Japan. Incroyable? Thankfully Kewell got away with his hairdryer routine on Markus Merk. FIFA obviously agreed that the over-officious Merk probably deserved it!
Group G and H should see the European sides sneak through. Admittedly Spain are in great form and in Villa and Torres (pictured) have the most potent attack. Nevertheless, the weight of history will prove too strong and I see them losing to a higher pedigree side in the quarter finals. Saudi Arabia are only slightly better than the abysmal effort of 2002. They are still an overpaid embarrassment to Asia. They will never improve until their best players are encouraged to play in Europe. Insh'allah indeed.
My guess for the round of 16 and beyond is
Germany v Sweden
Argentina v Mexico
England v Ecuador
Portugal v Netherlands
Italy v Australia
Switzerland v Ukraine
Brazil v Ghana
Spain v France
if quarters went according to favourites
Germany v Argentina
Italy v Switzerland
England v Netherlands
Brazil v Spain
after that...lap of the penalty gods!
Germany v Italy
Netherlands v Brazil
oh no...Its Germany v Brazil again in the final! Successive finals after avoiding each other for 70 years? Lets hope Argentina or Spain prove me wrong. Or Ghana. Or even Ecuador, brave men with lots of altitude.