Over two decades of authoritarian rule ended overnight in Mauritania. The Saharan nation saw lengthy queues at polling stations for the first election since the overthrow of Maaouya Ould Taya. Taya was president of Mauritania from 1984 until overthrown 21 years later. A military junta has ruled since then and Mauritanian citizens are now finally enjoying the chance to choose their own government. The vote
ended
on Sunday with full results available on Tuesday. Military junta leader Colonel Ely Ould Mohammad Vall told Al Jazeera that the upcoming vote represented a chance to change the country's political reality and should not be wasted. The ruling junta promised transparent elections after toppling long-term President Taya in a bloodless coup in August 2005 and are finally delivering.
Democracy is still slowly coming to this parched Islamic country. About a million people are eligible to vote out of a total population of over three million. Those who have the vote flooded the two thousand polling booths. With just 20 minutes to go before voting was due to end, long queues were still forming outside polling stations in the capital Nouakchott. They are
voting
for a 95 member parliament and 216 councils.
The election is being closely watched by at least 500 observers from the EU, AU, Arab League and the OIF (Organisation Internationale de la Francophonie) as well as a number of NGOs. So far they have found no irregularities. French Green Party MP Marianne Isler Beguin
said
the process has been satisfactory apart from some heavy-duty campaigning in front of polling booths. But it wasn't all hard sell; due to Mauritania's high illiteracy rate helpers were there to guide those unfamiliar with voting procedure.
Although there were no exit polls, a 14-party opposition alliance is expected to do well. More than 25 political parties representing a wide spectrum of views as well as numerous independent candidates were contesting the elections. Islamist parties although popular on the ground, are
banned
from taking part and the vote is likely to be split on ethnic grounds between African and Arab candidates.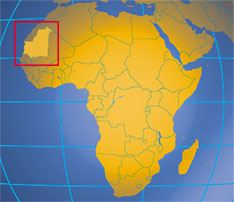 Mauritanian society has a history of being mostly nomadic with original negroid peoples being overrun by Berbers who themselves were subdued by Arab invaders. Mauritania's misfortune was to have a large Atlantic coastline which attracted the European powers. Until the beginning of the 18th century, Brandenburgers, Dutchmen, French and the British competed over coastal trade, the most important trade product being gum rubber. Then the competition withered. The Brandenburgers sold their assets to the Dutch. Later the Dutch themselves had enough. Finally the British
signed an agreement
in 1857 to leave the coast to France. By 1903, France was in a position to claim all of Mauritania. France ruled the large but sparse nation mostly through intermediaries until after World War II. In 1957 they created a new capital Nouakchott and the country celebrated independence in 1960. Over the next forty years, Nouakchott was transformed from a quiet fishing port of 15,000 to the largest city in the Sahara Desert with a population of 881,000.
The newly elected leader Makthar Ould Daddah quickly proclaimed a one-party state. The 1970s was dominated by drought and war. The Sahel Drought devastated the country's livestock and the country was plunged into further crisis when Spain withdrew from Western Sahara. Mauritania and Morocco gobbled up the old country but were fiercely resisted by the Polisario liberation front aided by Algeria. Polisario retaliated by bombing Nouakchott. Daddah was ousted in 1978 and Mauritania withdrew from Western Sahara a year later recognising the
Sahrawi Arab Democratic Republic
(SADR) as the legitimate government. Further coups brought Maaouiya Ould Taya to power in 1984. He claimed to introduce multi-party democracy but was comfortably re-elected in 1993 and 1997. He held another election in 2001 but arrested the opposition leader a day before the election. As well as arrests, press censorship and cronyism was rife under Taya's watch. Ironically it was his decision to recognise the state of Israel that was the final straw. A Military Council for Justice and Democracy led by Col. Ely Ould Mohamed Vall finally
deposed
the long-time leader in 2005.
But while the African Union condemned the coup, the people celebrated on the streets. Those same people will be busy voting for a while yet. There will be a second round of voting in two weeks, then a vote for the senate will take place in January, and the democratisation process will be wrapped up by presidential elections in March 2007. The parliament and municipal councils will have at least 20 per cent of female members. Political parties had to give women prominent places on their lists or risk not being able to participate in the elections. The 20 per cent quota was 'a rare initiative in an Arab-Muslim country,' female lawyer Jemina Mint Ichidou said. Mauritania's hope for the future lies in its oil reserves.
Mauritania's economic future is tied in with oil. It is one of Africa's upcoming producers and an Australian-led consortium started extracting this year.
Woodside Petroleum
leads the offshore drilling project investing US$ 600 million to deliver 150,000 barrels a day by 2008 in a country whose reserves are estimated at 600 million barrels.