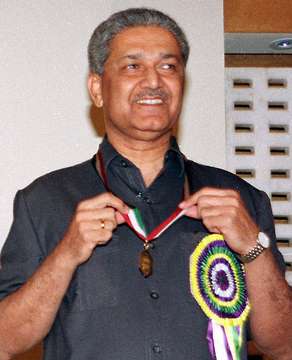 Abdul Qadeer Khan, the founder of Pakistan's nuclear programme, is
stable
in hospital after his health deteriorated last week. Pakistani army spokesman Major General Shaukat Sultan said. "Dr. Khan is in good health and there is nothing dangerous." Khan was detained in hospital after he complained about pain in the femoral vein. The 66 year old scientist underwent a successful prostate cancer operation at a private hospital in Karachi last month. It was the first time he was allowed out since his house arrest on 31 January 2004 imposed by President Pervez Musharraf after allegations of his involvement in the transfer of nuclear technology to North Korea, Iran and Libya.
A.Q. Khan was born in 1935 in Bhopal in what was then British India. The Muslim Pathan family migrated to newly independent Pakistan. Khan graduated with a degree in engineering from the University of Karachi. He studied further in West Germany and the Netherlands before gaining a Ph D from the Catholic University of Leuven in Belgium in 1972. His first job was with the Amsterdam based Physical Dynamics Research Laboratory (FDO). FDO was a subsidiary of Urenco a British-German-Dutch consortium that provides enriched uranium for European nuclear power stations. Urenco used a
Zippe-type
centrifuge to collect Uranium-235. Nazi scientist Gustav Zippe invented the Zippe-Type centrifuge during World War II and it is now the easiest way to make fuel for reactors as well as nuclear weapons. Zippe was captured by the Russians after the war and they forced him to reveal his method. After he was released, the Americans also ordered him to provide help for their nuclear program. Khan worked at the Urenco Dutch facility where the Zippe-type centrifuge was operational.
18 May 1974 was the festival of Buddha's birthday in India. On that day India launched the "
Smiling Buddha
", its first ever nuclear explosion. Pakistan was furious. In 1975, Khan went on holiday to Pakistan. He was asked by the then-prime minister Ali Bhutto to secretly take charge of Pakistan's uranium-enrichment program. The Dutch were quickly aware they had a spy in their midst. Ruud Lubbers, who would later go on to become Prime Minister, was the Dutch Minister of Economic Affairs at the time. He later
admitted
he discussed the Khan case with US CIA officials. But the Americans advised against arrest and told him to merely block Khan's access to Urenco. The following year, Dr. Khan escaped from the Netherlands with two secret blueprints for uranium centrifuge. The Dutch convicted him in 1983 in absentia for stealing the designs but his conviction was later overturned on a technicality.
Back in Pakistan, Khan initially worked for Pakistan Atomic Energy Commission (PAEC). He created a new research lab which was later renamed
Khan Research Lab
(KRL) in his honour by new military president Mohammad Zia ul-Haq. Khan was charged with a five year task to enrich uranium to build the world's first Islamic nuclear bomb. As well as Khan's brilliance, western intelligence inertia and weak export controls helped Pakistan made rapid progress in developing U-235 production capability. He
convinced
two Dutch firms to sell them over 6,200 unfinished steel rotor tubes. By 1987, a British newspaper reported that Dr. Khan had openly confirmed Pakistan had nuclear weapon capability. The US turned a blind eye as they needed Pakistan's support against the Russians in neighbouring Afghanistan.
Khan's DIY nuclear techniques caught the attention of other countries. First up was Islamic Iran as early as 1988. They began buying his drawings and parts and ended up with 500 centrifuges of its own. Meanwhile at home, his plans for the Islamic bomb were nearing fruition. In May 1998, Pakistan
exploded
a subterranean atomic bomb in the Chagai Hills in the desert of south-western Baluchistan province, barely 50 km from the border with Iran. Coming barely days after a similar bomb test from India, both countries in the sub-continent were now nuclear powers.
Over the years Pakistan had switched from an illegal importer of nuclear technology to an illegal exporter. Khan set up his supply headquarters in Dubai. He used a South African factory, imported centrifuge parts from Malaysia, electronics from Turkey, technology from Europe and a bomb design from China. This sophisticated and privatised black market became known as the Khan network and it was ready to do business with any customer. Ironically Saddam Hussein turned him down because he though Khan was an American front. Instead his most lucrative client became North Korea. In the late 1990s, Khan
supplied
uranium enrichment equipment and perhaps even warhead designs to North Korea.
The North Korean connection started to seriously alarm US security organisations. The CIA had cracked the network and was recommending its break-up. But after 9/11 the rules changed again. Once again the US turned to Pakistan as an ally and turned a blind eye to its nuclear programme. As a token gesture, Washington imposed
sanctions
in 2003 on Khan's firm for the alleged transfer of missile technology from North Korea. Khan ignored the warnings and went on to do business with Libya. He showed them how to turn enriched yellowcake uranium into nuclear fuel and also provided Chinese 1980s nuclear bomb design. The US raided a ship bound for Libya and they caught the consignment red-handed. The US and Pakistan took the decision to turn Khan into a scapegoat. He was forced to publicly apologise by Musharraf and he announced on TV he was acting alone. Bush hailed Khan's apology as a victory. Musharref made sure Khan could not tell his side of the story. He granted him a pardon but has since held him under loose house arrest allowing no questions from pesky outsiders.
Pakistan continues to deny culpability in the Khan network.