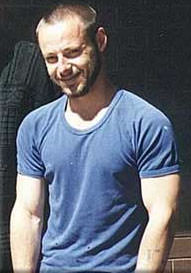 U2 started their tour of Australia last night with a
call to release
David Hicks from Guantanamo. Speaking from the stage in Brisbane, Bono said, "We call for David Hicks to be brought back to Australia". The South Australian Hicks has been detained for five years at Guantanamo Bay naval base in Cuba since he was captured with Taliban forces in Afghanistan. He is yet to face trial. Bono's plea is the latest in a string of high profile calls to end a miscarriage of justice. Even the unsympathetic Australian government now
concedes
Hicks has been held by the US for too long.
David Hicks was born in Adelaide in 1975. His father Terry Hicks described his son as adventurous. As a young man, David worked on rural properties in the Australian outback, experimented with drugs and fathered two children. In 1999, aged 24, he left his home in Adelaide with a
one-way ticket
to Pakistan intending to travel the Silk Road. But he changed his plans after a spur of the moment decision. Kosovo was dominating media attention. By the time Hicks got to Albania the war between Serbia and Kosovo's Albanian majority was almost over. He trained for four weeks with the Kosovo Liberation Army (KLA) and signed up with NATO. Then a peace deal meant foreign volunteers were sent home under NATO orders. Hicks came back to Australia where he started to become interested in Islam. He converted and began to learn Arabic. For his next adventure he wanted to travel to Afghanistan. Hicks went back to Pakistan in 2001 where he worked in a madrassa (an Islamic school) and trained with Lashkar-e-Toiba.
He was in still in Pakistan on 11 September 2001. On hearing the news of 9/11, he immediately packed his bag and travelled to the Al Qaeda guesthouse in Kandahar, the Taliban capital of Southern Afghanistan. He crossed the border just before it was closed. After a few weeks, he was threatened with homelessness unless he volunteered to help the Taliban. David telephoned his father from Kandahar to tell him he was
going to help
the Taliban defend Kabul from the Northern Alliance. When the US air strikes started, he was told to guard a tank. When Afghanistan's fourth largest city, Mazar-e-Sharif, fell to the Americans, Hicks went to the frontline. Within hours of arriving, the front collapsed. The few hundred foreign fighters fled and were chased by the Northern Alliance. After two weeks in hiding, Hicks was picked up at a taxi station, trying to leave the country. The Northern Alliance sold him to the Americans for $1,000.
In January 2002, the first of the prisoners from Afghanistan were loaded, hooded and shackled, on to a plane for
Guantanamo Bay
. David Hicks was among them. The Howard government was quick to echo American claims and publicly denounced Hicks as a "dangerous terrorist." In July 2003, the US announced that Hicks would be among the first six Guantanamo detainees to be tried as terrorists. Immediately they were all put in solitary confinement. They were placed in tiny windowless cages about 2.5m by 1.8m. There was no natural light. They were let out of the cages for 15 minutes each week. In a 2004 affidavit, Hicks said he had been beaten with fists and rifle butts while blindfolded, subjected to extreme cold and strobe lights, and had his head rammed into asphalt on multiple occasions. Since 2002, David's father Terry Hicks has been on a tireless one-man crusade to achieve justice for his son. The 2004 Curtis Levy film "
The President Versus David Hicks
" followed Hicks snr in his quest to find out the truth about his son. Terry retraced David's travels through Pakistan and Afghanistan in an attempt to understand the motivations and the reason for his arrest.
After two-and-a-half years in custody, Hicks was finally charged in 2004. The
charges
were conspiracy, attempted murder and aiding the enemy. There was no allegation that Hicks killed or specifically harmed anyone. The charges repeated what was known; Hicks trained in Al Qaeda camps, defended a tank near Kandahar and travelled to the frontline with the intention of fighting US-led forces. More puzzling was the claim that Hicks translated al-Qaeda training material into English from Arabic. Hicks' Arabic remained rudimentary at the time of his arrest.
Hicks and the other Guantanamo detainees remain in legal limbo; unable to invoke the writ of habeas corpus to test the legality of their imprisonment. The US has classified them as 'enemy combatants' not prisoners of war and therefore have denied them the protection of the Geneva Convention. Hicks' military trial was initially set for January 2005. But in November 2004, the US Federal Court ruled that the military commissions were neither competent nor lawful. The Appeals Court overruled this decision in July 2005. But in June this year this US Supreme Court ruled the military tribunals were illegal under US law and the Geneva Conventions. The case against Hicks is now
on hold
while the US Supreme Court decides whether to hear a further appeal by a Yemeni detainee against the legitimacy of the trial process. An Australian senate hearing in October was told the current charges against Hicks have lapsed and the regulations governing the new military commissions will come into force in January. The long wait for justice continues.