With the support of the Labor Government, former Liberal foreign minister Alexander Downer is now likely to become the UN Special Envoy for Cyprus. Although not yet officially announced by the UN itself, Downer made the announcement himself from London where he is involved in private discussions about his future. The 56 year old South Australian said Australia has a humanitarian interest in a resolution to the Cyprus dispute because of its own large community of Greek and Turkish Cypriots. "I will be working toward helping the Cyprus saga," he
said
. "I will be working toward helping the Cyprus saga, working as an envoy to try and resolve that long standing issue." "Working as an envoy to try and resolve that long standing issue."
The news came as Downer
officially announced
his retirement from federal politics today. The news brings an end to speculation of what role he might play in a future Liberal leadership contest. His last day in Canberra will be 14 July and there will follow a by-election in the Liberal blue ribbon seat of Mayo. Apart from the Cyprus role, Downer plans to work in an Adelaide consulting firm and also take up a part-time position in a South Australian university. Downer was Australia's longest-serving foreign minister, lasting 11 years in the job throughout the entire period of the Howard Government.
Bernard Keane in
Crikey
was scathing about Downer's legacy. Keane called him Australia's "worst foreign minister of recent decades" who was the White House's lapdog for most of his 11 year stint in the job (coinciding with seven years of the Bush administration). Keane castigates Downer's role in the decision to go to war with Iraq, his intellectual dishonesty in the AWB scandal, and the damage he caused to the relationship with Papua New Guinea.
But Downer is not without his supporters. Writing today in the Wall Street Journal (the cross-benefits of Murdoch's ownership becoming increasingly apparent), Australian right-wing journalist
Janet Albrechtsen
described Downer as a "stalwart and articulate defender of the legitimate right of Australians to determine their national sovereignty". She claims that Downer's determination to stay the course in Iraq has won Australia influence in Washington which will benefit Kevin Rudd while he (Downer) heads off to become Ban Ki Moon's "fix-it man in the Mediterranean".
Downer will have a difficult act to follow in current Cyprus special envoy, the Ethiopian-born
Taye-Brook Zerihoun
. Zerihoun is an experienced diplomat who formerly served as a UN envoy in Sudan. He spent his last few days in office in the island nation talking to both the Cypriot Greek leader Dimitris Christofias, and his Turkish Cypriot counterpart, Mehmet Ali Talat. He
told
a Medal Parade of the UN peacekeeping mission that there's been marked progress in the peace process in the last few months, a development which he adds, has engendered much optimism and goodwill in Cyprus and around the world.
One of Zerihoun's
last acts
was to bring Christofias and Ali Talat together again on Tuesday for further talks on reunification. The leaders agreed in principle on the issues of single sovereignty and citizenship. Citizenship has been a key concern for Greek Cypriots particularly as they try to halt the growing number of naturalised mainland Turks who have moved to the island since Turkey's 1974 invasion. The Turkish Cypriots, meanwhile, want the federation of the two communities foreseen in the UN-brokered peace talks to be an entirely new creation. This is opposed by the Greeks who want their government (recognised across the world except by Ankara) to continue to be recognised.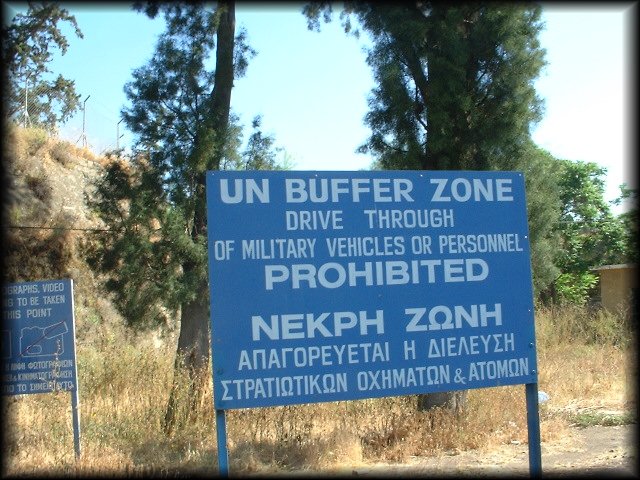 While these basic issues will take some time to resolve, Zerihoun has
brokered
other initiatives in recent months in an attempt to make life easier for both sides. They include educational programmes on cultural heritage; steps on road safety; easing the movement of ambulances between the two sides; the establishment of a Cyprus Joint Committee on Health; cooperation for an island-wide assessment of all major waste streams; and agreement on environmental education. Zerihoun has been backed up by the UN Peacekeeping Force in Cyprus (UNFICYP) which has been on the island since 1964 charged with preventing communal violence.
It was Downer himself who
announced
Australia's last envoy for Cyprus. He appointed John Spender to the role in 1998. Back then, Downer was worried by the continuing deadlock over efforts to bring the Greek and Turkish communities together. "Thirty-five years since the outbreak of intercommunal fighting and 24 years since the Turkish invasion of 1974, the problem of Cyprus remains unresolved, " he said "A settlement is long overdue." Now Downer will have a direct opportunity to make that happen.