Queensland Opposition leader Lawrence Springborg has
taken a leaf
out of former Labor Premier Wayne Goss's book with his mid-term advertising campaign promoting him as an alternative leader. The tone of his ads is so serious as to be almost beyond parody, and conspicuously make no mention of his own party. Similarly his website
Springborg.com
is a National-free zone that attempts to lay out his case for "one non-Labor party" in Queensland. Despite the hoopla Springborg has little hope of emulating Goss's success with the Queensland coalition sitting 20 per cent behind Anna Bligh's government in the polls.

Wayne Goss
won that 1989 election with a 24 seat majority bringing an end to a tumultuous 32 year reign of the National Party. Queensland has always marched to a different tune to the rest of the county and 1989 was no different. Goss won despite a national trend against state Labor governments. His self-declared reformist government came to power with a mandate to rid the state of what he called the "diseases" it picked up from the previous administration. As he told the ABC in 2005, "The whole fabric of public administration had been infected with cancer, the cancer of corruption."
The previous government was dominated by the 19-year tenure of
Joh Bjelke-Petersen
as premier. His deeply conservative administration insulated Queensland from the progressive political changes that were occurring across the rest of the country in the 1970s. His power was sustained by a biased electoral system based on zonal malapportionment (ironically introduced by Labor in the 1950s), a secretive redistribution process, inaccurate rolls (the only state which did not use the federal roll) and compromised commissioners.
The Nationals were undone by the Fitzgerald Inquiry into police corruption which exposed systematic impropriety at the highest levels of government. In 1987 Bjelke-Petersen was sacked by his own party. His replacement Mike Ahearn made the dramatic pledge to implement the
Fitzgerald reforms
"lock, stock and barrel". But he did not have the support of his own party to implement these reforms and was replaced before the election by a more traditional National figure in Russell Cooper. Cooper shored up the bush vote but his appointment undermined urban faith in the Nationals' commitment to reform.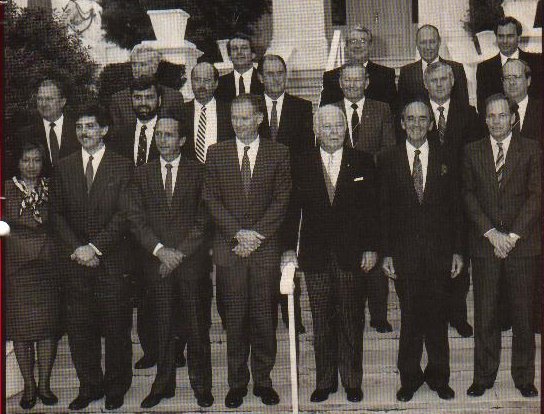 Labor won the 1989 election comfortably despite the gerrymandered ballot. As documented in Bron Stevens and John Wanna's analysis of their first term "
The Goss Government
", their election campaign was a mixture of "caution and ambition, conservatism and reform". Labor were determined not to give the electorate any reason to fear them and copied the Nationals on a range of contentious policy issues. To counteract the claim Labor would be a high-tax government, they promised "no new taxes". Queensland was already the lowest taxing state in the commonwealth and this promise seriously constrained their ability to institute much-needed reforms.
However the new Labor Government was more ambitious on other fronts. They promised a radical difference to the redneck patriarchal style of the Bjelke-Petersen era with Goss a modern, articulate and consultative leader of a cabinet that would adhere to traditional Westminster rules so conspicuously ignored by their predecessors. Bjelke-Petersen famously was unable to explain the doctrine of Westminster separation of powers (between the executive, legislative and judicial branches of government) at the Fitzgerald Inquiry. He bluffed his way through this
nonsense answer
to the question of what that doctrine was: "the separation of the doctrine that you refer to, in relation to where the Government stands, and the rest of the community stands, or where the rest of the instruments of Government stand."
By contrast, the legally trained Goss was keen to depoliticise the public service who would implement policy in an impartial, corporate fashion (under the head of a rising star named Kevin Rudd). Both government and administration would be accountable and responsive. Labor also asked the
Electoral and Administrative Review Commission
(EARC) to table recommendations on the reforms of the biased electoral system. While Goss was disappointed the EARC didn't go far enough to remove rural advantage of vote weightage, it did abolish the multi-zonal system that gave the rural-based Nationals such a strong advantage.
Goss succeeded in keeping the high economic growth he inherited from the previous government. He had some successes in implementing traditional Labor reform areas such as the establishment of the Women's Policy Institute. He also increased the funding for Aboriginal and Islander Affairs, criminally neglected by the racist Bjelke-Petersen government. Goss also increased Queensland national parks allocation, supported the World Heritage listing of the
Daintree Rainforest area
and formally ended sand mining on Fraser Island.
However Goss was heavily criticised by many would-be supporters in women's, Indigenous and environmental lobby groups for not going far enough to implement needed reforms in these areas. This was a political decision as Goss needed to shore up his base for the 1992 election and knew that his opponents on the left were unlikely to vote for the Nationals despite their protests at his reform failures. Women's groups were disappointed he did not decriminalise prostitution or repeal laws appearing to make abortion legal. Indigenous groups were dismayed at his lack of consultation on land rights issues and his failure to implement recommendations from the
Royal Commission into Aboriginal Deaths in Custody
.
But Goss had to accommodate other more powerful interest groups. His emphasis on economic growth meant he needed to consult with industry leaders, mining companies, pastoralists and tourism operators. With no upper chamber in Queensland that might have elected Greens or Democrats, there was little parliamentary scrutiny of any adverse social decisions Goss made. Welfare spending remained lower than in any other state in Australia. Goss's government walked a fine line between reform and caution and was eventually comfortably re-elected in 1992. Goss's failures eventually cost him and his party power in a
narrow defeat
in 1996, though Peter Beattie won Government back for Labor 18 months later.
Lawrence Springborg is no Goss but he too is trying to walk a fine line between reform and conservatism. He promises a commitment to renewable energy, a "world class" health system, and empowering Aboriginals while
appealing
to the conservative base with a typical "tough on crime" stance. But despite Springborg being all dressed up, at the moment he has nowhere to go. The prospect of a united conservative party in Queensland looks as far away as ever and with it disappears any chance he has of becoming Premier. Labor have won six of the last seven Queensland elections. At this stage, Anna Bligh looks odds on to make it seven out of eight and make history by being the first ever elected female state leader in the country.