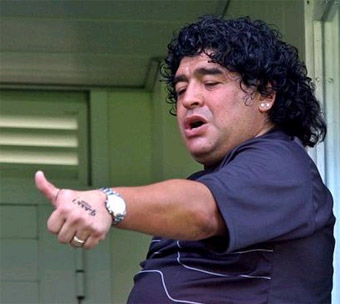 Diego Maradona has
checked in
to a specialist psychiatric clinic in Buenos Aires after been discharged from hospital. There he will be treated for alcohol addiction. Maradona checked in complaining of abdominal pain. The move is the latest in a long list of medical troubles for one of the all-time greats of football. He has spent the last three weeks in Los Arcos Sanatorium where he was hospitalised for alcohol hepatitis. Maradona is an ex-cocaine addict and suffers from excessive eating, drinking and cigars. His personal doctor Alfredo Cahe said that the 46-year old Maradona has an "addictive personality".
Addictive or not, Maradona is probably the greatest player ever to play the game. His tragedy is his
long history
of dealing with alcoholism, cocaine addiction and obesity. Since retiring from the game in 1997, these problems have exacerbated. In 2000 and again in 2003, Maradona was rushed to hospital with severe heart problems stemming from cocaine abuse.
After his 2000 stint in hospital, Maradona went to Cuba to rehabilitate. There he forged a warm relationship with Fidel Castro. Maradona gave Castro a
football lesson
at Havana's Revolution Palace. According to an excited Castro, "Today I learnt a lot of things, I learnt how to dribble with the ball!" Maradona was equally gushing in praise of his host saying "I am proud to be a friend of Fidel, a friend of the greatest man in living history." Maradona said he wasn't a Communist, merely a "Fidelista". While in Cuba, Maradona slimmed down and improved his health dramatically. But it was to be a short-lived respite.
Diego Armando Maradona was born to an underprivileged family in the Buenos Aires shantytown of Villa Fiorito. Diego shared a bedroom with seven siblings. He spent his every waking hour playing football in the streets of his neighborhood. Aged 14, he got a game with a team called "
Los Cebollitas
" (the little onions). Inspired by his young genius, Los Cebollitas went on a winning run of over a 100 games. Before Diego had turned 16, he was attracting the interest of Argentina's largest football clubs. He signed on for Argentinos Juniors. He stayed there for six years and played 166 games where he scored 115 goals. In 1977, aged 17, he earned his first cap for his country. Argentina hosted the world cup the following year but manager Cesar Luis Menotti left Maradona out of the squad claiming he was too inexperienced. Menotti's decision was justified as Mario Kempes inspired the hosts to their first ever victory. Maradona's moment in the sun wasn't to be far away.
In 1979, Maradona scored his first full international goal and captained Argentina to victory in World Youth Cup in Japan. In 1981 he was transferred to the club he supported as a boy: Boca Juniors. He scored twice on his debut in a 4-1 home win to immediately strike a chord with the fans. Boca would go on to win the league. But he only had one year to grace them with his presence. The European giants were taking notice. Aged 22, he
transferred
to Barcelona for a world record £5 million. The move was not judged a success.
In his first season, he was struck down by hepatitis. At the start of his second season, the Athletic Bilbao defender Andoni Goicoechea scythed him down, breaking Maradona's ankle and earning himself the nickname of
Butcher of Bilbao
in the process. Though it seemed like a career ending injury, Maradona came back to play within 100 days. But he could not help Barca win the Spanish title and was allowed to leave at the end of the season. Maradona joined the Italian sleeping giants Napoli for another world record fee £6.9m.
It would prove to be one of the more inspired transfers of modern times. Maradona struck an immediate bond with the team from Italy's roughest and toughest city. He took them to the pinnacle of Seria A. Maradona would lead Napoli to two Italian titles and a UEFA cup success. Even in 2003, well after his departure, a Neapolitan
could say
, "there are three million Neapolitans, and two million have photos of Maradona."
But the climax of his football career came at international level. Aged 26 in 1986, he was captain of his country and ready to lead them to victory in Mexico's second World Cup. The apogee of his talents came in the quarter final against England, a game still redolent with the after-effects of the Falklands War. Maradona would grace this game with two of the most memorable goals of all time. The first saw the tiny Maradona rising to palm the ball past a disbelieving Peter Shilton. Maradona added a memorable description to the language of football when he described the goal as "a little with the head of Maradona and a little with the
hand of God
.". While this was sleight of hand, the second was pure sleight of foot. Maradona picked the ball up in his own half before slaloming his way past five English defenders to score the probably the best goal ever seen. His goals would also defeat Belgium in the semi-final before making the winning goal in the final v West Germany.
While he would go on to play in the 1990 finals (reaching the final itself despite an ankle injury) and again in 1994, his career was on the slide. He was introduced to cocaine at Barcelona and it slowly took over his life. He first failed a drug test in 1991, an incident which brought his career at Napoli to an end. While playing in the 1994 World Cup, he failed a test for ephedrine and was sent home after two games. Maradona
claimed
the positive reading was due to his personal trainer giving him the power drink Rip Fuel.
Maradona retired after that world cup. He had unsuccessful stints as coach of Argentine clubs Deportivo Mandiyú and Racing before returning to play for his beloved Boca in 1995. He had some success before retiring for good in 1997. In 2005, Maradona started a career as host of his own immensely popular television program called
La Noche del 10
(The Night of 10) - a reference to the number he played in for his entire career.
Maradona is now a powerful political player in Latin America. As well as his links to Castro, he has shared rallies with Venezuelan President Hugo Chavez and Bolivian President Evo Morales. In 2005, Chavez, Morales and Maradona led a 25,000 strong rally in Argentina to
protest
George W Bush's proposed Free Trade Area of the Americas (FTAA). Maradona brought star attraction to the march by announcing on his night television show that he would be taking part. Maradona described Bush as "human garbage" and told the protesters "Argentina is worthy; let's kick Bush out". Marcelo Langieri, an academic and protest leader, saw the importance of having Maradona espouse the cause "Maradona is not a politician. What Diego said is the truth," he said.
If only Diego's health was in the same shape as his reputation, he would live to 100.